WILD IN BLOOM
The Wild in Bloom Collection is inspired by the light and spirit of today's modern bride.
Playfully high slits, sensuous open backs and sheer skirts are all designed with freedom of movement in mind, allowing you to feel beautiful and comfortable at the altar and on the dancefloor. Each gown features unique details to appeal to your particular desires. Beaded fabrics, intricate floral embroideries, hints of colour and sequins become symbols of your passionate soul, ensuring that your wedding day won't soon be forgotten. Take a walk through our field, and find your Wild in Bloom dream gown today.
The Gardenia Gown and Top make a beautiful pair. A sensual crepe gown features a deep plunge and dramatic train, and can be paired with a top for extra warmth that doesn't detract from the overall look. A diamond lattice features carefully scattered flowers across your décolletage, adding allure to comfort.
The Berberis Gown is designed with a halterneck to accentuate your shoulders, and lines of sequins draw the eye down the perfectly fitted shape. Move the way you want with a short train at the back, and high slit in the center front that exudes carefree glamour.
The Protea Gown is another geometric treat. Hints of mocha layer under hand-beaded fabric, creating a drape that moves like liquid. A statement cut-out back adds playfulness to an otherwise classic silhouette.
The Tulip Gown is classic elegance at its best. A high boatneck plunges into a deep open back, and diagonal darts ensure a beautifully figure-hugging mikado fabric silhouette. The twisted sleeve seam are emphasised with tiny buttons that add class.
The Dicentra Gown is the perfect combination of vintage and modern style. The bodice and skirt feature striking geometric patterns, hand-placed in ivory sequins. These complicated arrangements pair beautifully with a satin crepe skirt that splits into a matching patterned train. Replace the veil with a tulle cape on your shoulders to make even more of an impact.
The Viola Gown features a unique polo neckline for a modern take on Victorian style. A floral lace bodice is paired with a simple yet elegant white satin skirt that moves with you, and the floral lace train will make a dramatic impact from behind.
The Jacaranda Gown calls out to the laid-back bride that still wants to feel glamorous. Silk organza covers gray tulle down to the floor, while gunmetal floral lace plays across the bodice.
Touches of gold and pink beading and sequins lead up to soft cap sleeves with Ostrich-feather embellishments. And if you're still looking for a touch of something striking, a velvet ruby ribbon tied around the waist will finish off the look.
The Saintpaulia Gown is a feast for the eyes, with new details revealing themselves at every look. The fitted bodice features a sparkling layer underneath, and a side seam zip allows for uninterrupted detailing around the open back. Mid-length tulle sleeves that match the train add a sense of grandeur.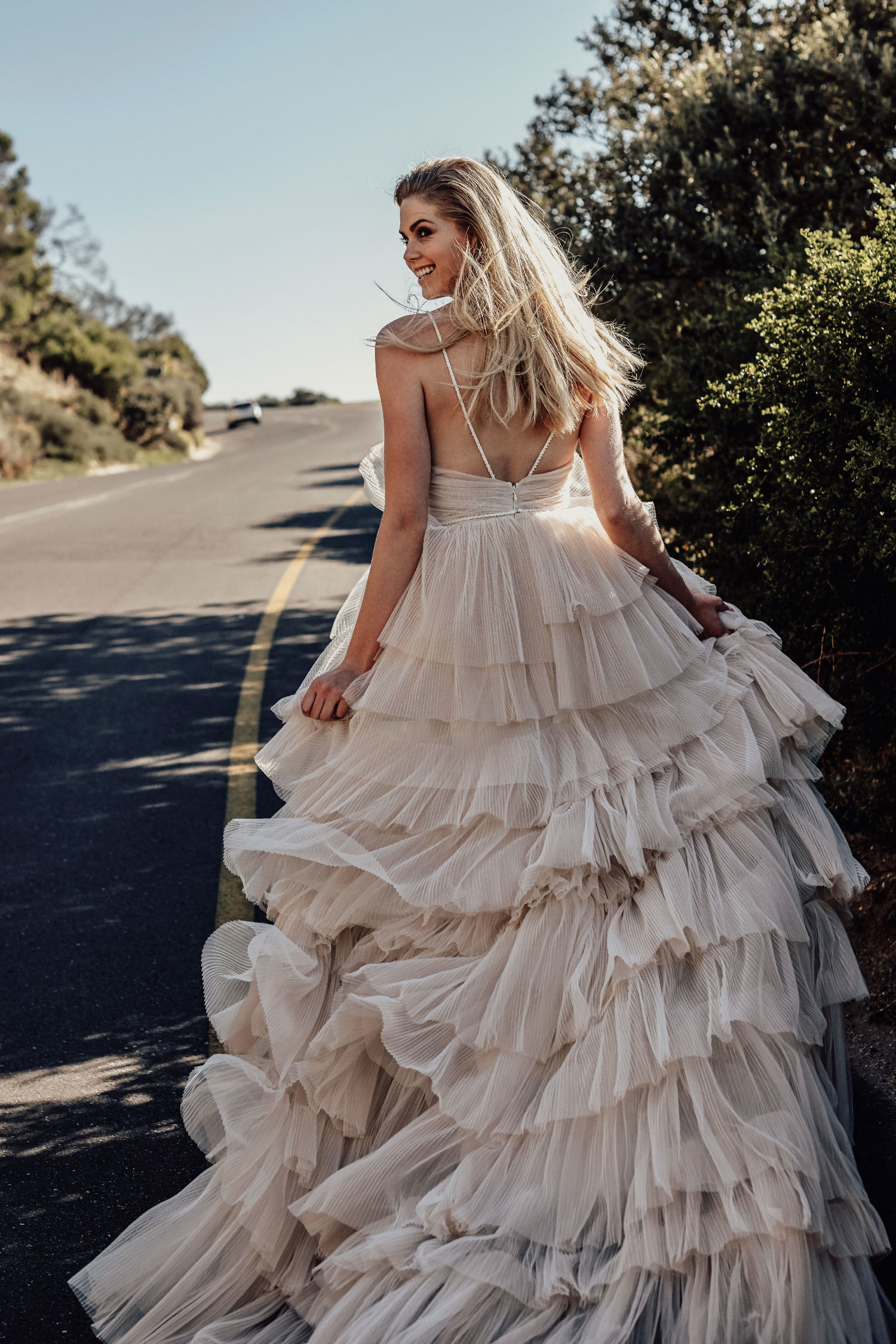 The Bells Gown is an absolute scene-stealer. Layers upon layers of pleated tulle cascade from hints of blush into ivory. The deep plunged neckline adds sensuality and lightness, and the straps and subtle belt are hand-beaded for a touch of sparkle.
The Brunia Gown is a modern bride's dream. Pearl beading adds a soft shine to the macrame lace bodice, and the dropped waistline creates a slimming look. The white satin skirt is designed for optimal comfort and movement, whilst maintaining a clean elegance.
The Aster Gown features countless customisable details to make you feel like the best version of you on your wedding day. Soft Chantilly lace is tastefully hand-embroidered with unique and modern elements. You can choose to add a second slit to the front of the skirt, or remove the slits altogether and drop the blush lining all the way to the floor for a more modest look.
The Heuchera Gown our modern take on Art Nouveau, with beaded lace meticulously placed into a puzzle of floral grandeur. A deep plunge and low back flow into a mermaid style skirt and train, providing you with the perfect combination of a vintage and modern silhouette.
The Myrtus Gown is for the bride that knows all eyes are on her, and her alone. Sparkling white beads catch the light from all angles, with a slight hint of fuchsia underneath the white. The beaded corset is designed with your body in mind, and can be paired with detachable ruffled cap sleeves. The best part? It has pockets!
The Nymphea Gown lends a subtle sparkle to the bride that wants to catch the eye. Waves of beads and sequins wash over sea foam white, creating a classic but striking silhouette. A slight train spills from the figure-hugging form, and an open back lends some sensuality.
The Serruria Gown and Veil features shoulder to toe floral lace embroidery over a soft nude fabric. Each stitch will frame your body perfectly, as the flowers cascade down into the train. A high slit adds a touch of drama, and the signature floral veil completes the look.
The Liana Gown is a daring piece, featuring a detachable tulle skirt over a form-fitting bodice. The sheer corset top will be perfectly molded to your shape, ensuring a flattering and worry-free fit. Design yours with a slit for an extra wow factor, or without for a more classic look.